'Phase 1' of outdoor provision development project complete!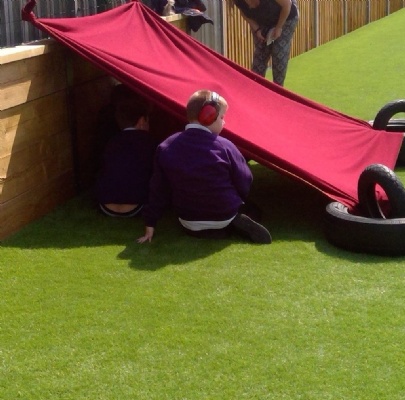 This half term we saw 'Phase 1' completion of our outdoor provision development project. With special thanks to Greenwood Academies Trust for supporting our development bid to secure funding for this project. Re-surfacing of one of our outdoor areas has seen the space developed into a "all-weather" provision so outdoor learning opportunities and play times can be enjoyed by all our pupils.
A priority of our school development plan this year is to continue developing 'a curriculum which meets the needs of all learners'. To achieve this we highlighted the fundamental principles of outdoor learning as key and recognised the need enhance our outdoor provision.
Research shows the outdoor environment has high impact for pupils' development of:
exploration
discovery
risk taking
self- esteem
speech and language
ability to generalise key skills and concepts
sensory and physical movement
emotional regulation - reducing high anxiety often associated with Autism
mental fitness
physical fitness
All pupils attending Medeshamstede Academy have an Education, Health and Care Plan (EHCP) with the following four areas recognised as their special education needs:
cognition and learning;
sensory and physical;
communication and interaction;
social, emotional and mental health.
We recognise that outdoor learning through a stimulating environment is vital to achieve positive impact in these key areas and meet pupils' needs.
With the support of our Academy Advisory Council 'Phase 2' of our project now focuses on the development, procurement and installation of equipment to enhance and create an outdoor environment suitable for all pupils' needs. This is a whole school priority and enhances occupational therapy and communication and language therapy programmes in the outdoor environment. Many pupils have difficulties associated with their proprioception (the sense of self-movement and body position) and vestibular systems (the sense of coordinating movement with balance) which is developed through outdoor experiences.
Therapeutic provision is often delivered indoors and and our vision is to extend this to the outdoor environment. We see playtimes as key opportunities for such provision through outdoor play and this would further influence pupils' development. A growing number of studies indicate that outdoor activities provide many benefits, including restorative or stress-reducing effects.
Studies into the effects of outdoor play for children with Autism have found increased:
social interaction – children taking initiative for spontaneous interaction;
communication – promoting speaking ability and content of speech;
behaviour – promoting the ability to accept change; decreasing ritualistic behaviour; reducing agitations;
emotions – increasing the positive emotions and decreasing negative emotions.
Our aim for 'Phase 2' of the development project is to install play equipment that will offer a variety of psychological and physical benefits and challenges to our pupils. The following 7 points highlight the impact of the outdoor curriculum and how resourcing this will benefit our pupils:
1. Learning
Playing outside helps children to develop their learning abilities. By putting educational equipment outdoors, children are learning through play, which is a fun way of helping children to learn new information and skills and generalise key concepts. Outdoor learning encourages children to think of learning is an ongoing process instead of just something done in the classroom.
2. Creativity
Outdoor play encourages children's creativity. Away from the constraints and confinement of indoor play, being outside stimulates children's imaginations by the objects around them and they quickly tap into their creativity.
3. Health
There are numerous health benefits to playing outside; building strong bones and good fitness levels, enabling children to burn off extra energy and calories (childhood obesity is higher than it has ever been). With motivating equipment to play with, children can be more active when outside which also improves sleep. Being in the sunshine, even in winter, means children naturally absorb vital vitamin D, a lack of which can lead to low mood, energy and a reduced immune system.
4. Social skills
Outdoor spaces can offer pupils who may experience times of sensory overload an opportunity to relax and regulate. Children can also become more willing and confident to participate in new games and activities, also more likely to talk to other children and make relationships. This all encourages children to learn social skills and how to interact with other children building on clinical models of indoor social skills groups.
5. Well-being
Giving children the freedom of playing outdoors helps them to feel happier and calmer. The freedom of outdoor play also encourages children to get rid of built up energy, particularly when concentration and attention skills may be a challenge. Outdoor play leads to them becoming calmer and ultimately helps them to be more focused when in the classroom.
6. Independence
An interesting and well equipped space in which to play means that when outside children learn independence when socially interacting with other children, as well as learning to engage in play by themselves. They learn how to take turns playing games, become resilient, take risks and negotiate equipment, resulting in children learning how to be independent and self-reliant.
7. Exploration
Often outdoor play equipment has a little more risk than indoor toys. Whether it is encouraging children to use slides they might be a little afraid to go down, or to try challenging play trails; outdoor play equipment can help children to learn to push their boundaries and become good at risk assessment. It teaches them to explore new games and become confident in learning to try new things and increase self-esteem.
Look out for further exciting developments in the coming year.